Conakry's Street Children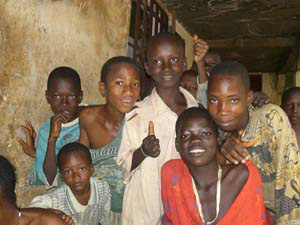 On the streets and market places of Conakry, Guinea's capital, many homeless children, mainly aged 6 to 14, are leading lives dominated by the merciless struggle for mere existence. These children have fled from severe abuses and hard child labor, have been turned out of their homes, or have simply been abandoned. Their lives on the street often reach a dramatic deadlock: they are threatened by hunger, disease and drugs. When stealing to make ends meet, they have to face the risk of being caught, which brings about more abuses and sometimes even their death.

Similarly to the street children in Conakry, the children in all other major cities in Guinea try to make a living as well as they can, separated from their families and without an education. They are exposed to immoral influences and live without any protection.

Upon coming across such a street child, Father Stefan invites them to his shelter home. One of the workers tries to contact the child's family as soon as possible, even if they live far away from Conakry. Sometimes, the family is happy to have their child again, and he or she remains there. In cases where the parents are incapable of caring for their children or reluctant to do so, the children are accepted in one of Father Stefan's shelter homes.

Mohammed is one many such street children. With his mother and father having remarried, none of them wanted to take custody for their child. They turned him out of their houses. He lived with his aunt for a while. When his aunt was about to move to the Ivory Coast, she turned Mohammed out on the street, with three boxes of shoe-shining cream and some brushes. He was just 12 years old. Her only comment was: "You're old enough now. Go earn your living."

The mother of Sekou wanted to kill her son with a knife out of despair. Today, she has been reconciled with him. Sekou is working as a mechanic and caring for his now sick mother.